Prices and rates for services that fall within the scope of universal service must be:
accessible, allowing all users access to the services offered, regardless of their geographic location,
cost-oriented, whereby they must promote efficient universal service provision,
the same for the same type of services throughout the whole territory of the Republic of Slovenia,
transparent and non-discriminatory.
The Procedure of Changing Prices
The universal service provider must obtain the Agency's approval before changing its prices. The prices must be published on its website and at its offices at least seven days before they come into effect. Before issuing its approval, the Agency must check whether the proposed prices are in accordance with the principles of transparency, non-discrimination, and competition assurance, as well as set in accordance with Article 35 of ZPSto-2 regarding the prices of universal service.
The Agency has 30 days from the date it receives the proposal for changing prices to examine it and issue a decision. This deadline can be extended by 15 days if the Agency requires additional data and calculations.
The Agency approved two proposals (of five) for price change from Pošta Slovenije, d. o. o., the universal service provider in the years 2011 and 2012. The proposal approved by the Agency in 2011 pertained to the prices of certain services in domestic and international traffic, while the proposal approved in 2012 pertained only to the prices of international traffic.
The services from the range of universal postal service have been exempt from value added tax payments since 1 January 2011, and the price list for all services from the range of universal postal service is available at Pošta Slovenije, d. o. o., website.
Prices of Universal Postal Service in Domestic Traffic (2008–2011)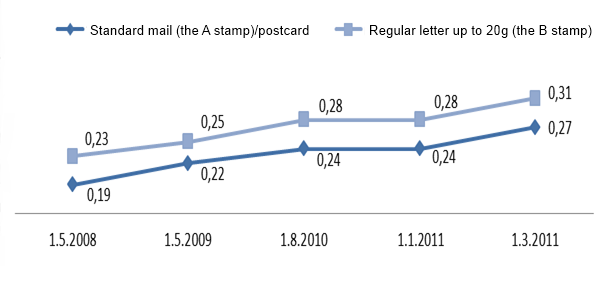 Note: All prices are in euros without VAT.